As we get closer to seeing more casinos reopen, one of the biggest operational challenges that has emerged is managing the demand created by the interest in gaming combined with new capacity limitations due to social distancing protocols.
Based on our recent survey, we know that there is great excitement for patrons to return and that showed at Coeur d'Alene Casino during the reopening weekend. Some guests saw 3+ hour wait times to enter. As these new protocols look like they will be in place for a while, this may not just be an opening weekend issue, but an every weekend issue.
As we are always looking for ways to assist our clients, even outside the typical agency function, we started thinking, "how can we help ease this pain point?" Well, we did some research to see if there are any technology solutions that could help mitigate this new challenge, and we found that there are.
Restaurant companies utilize platforms for call-ahead seating that can easily be adapted for casino entrances. While doing our research into which companies might fit best, we wanted to make sure we followed these criteria points.
Minimal to no human contact
Cloud based solution
Player tier identification
Remote check-in via cell or landing page
Wait time updates
On-site check-in (for those without cell phones)
Restaurant wait list
Below are two of the options we explored and wanted to share with you.
The Qminder platform has a few different ways for guests to get on the wait list. They can sign up through a weblink, QR code or a self-service kiosk on-property. On the weblink, guests can see the average wait time, busy/slow times and how many people are waiting.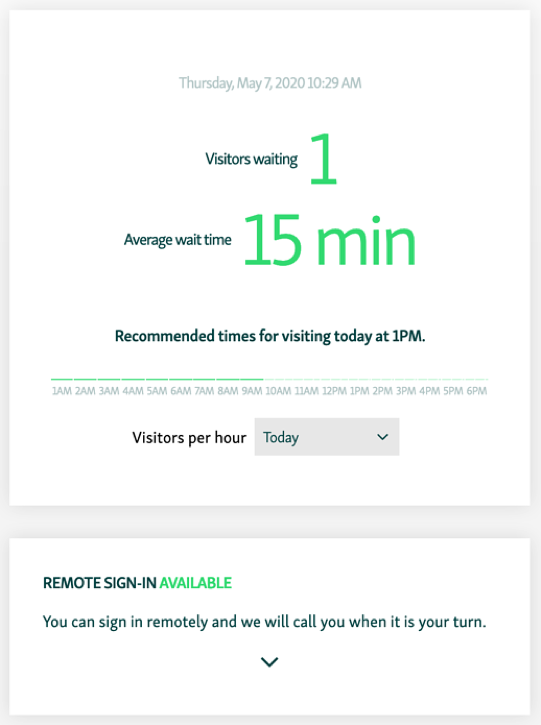 You can also set predetermined fields on the weblink for guests to identify their tier level. The great thing about Qminder is there is no need for an app, it is all cloud based. The monthly fee is very affordable at $599 a month. You can check out their fact sheet here.
The Waitwhile platform is another great option for guest queuing. This solution has many of the same features that Qminder does. One of the features we really liked is the automated text updates you can set up. For example, when a guest reaches a certain place in line, e.g. #10, it will send them an update. We love this feature as guests could check in from home and be alerted to when they should head to the casino. This will help cut down on lines and avoid any potential weather related risks.
This platform is also cloud based and does not require an app for the end user. The cost is based on the number of guests per month and features. You can see their pricing structure here.
If you would like assistance setting up one of these options, just let us know and we will be happy to help.